Science, nature and images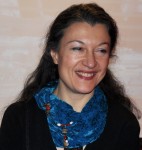 My family story has traced my way : diversity and mixed ancestry, encounter and exchange, culture and its power for resistance, ties with nature. These are the topics recurrent in all my work.
I grew up near the wild forests of the Ardennes, in northeast France, close to nature and proud of my dual background : European and Asian.
My maternal grandfather, Henri Vo van Thong left Vietnam very young to study in Paris. His story of a stranger tracing his way through a foreign country was always a great source of inspiration and mystery for me.
Guided by my taste for science and my love for nature, I completed studies in pharmacy with a doctorate thesis on "Computer imagery in scientific films". Following my passion for the visual arts, I went to study at the Art Center College of Design (Los Angeles, USA) where I graduated in Cinema and Computer Graphics (always that duality arts and sciences!)
To valorize with the image
I directed and filmed music videos and commercials, including several PSAs, while in the USA for 9 years. That's when I developed a style which combines my double concerns : for the beauty of the image and of the people.
Whatever the film, I always had a « documentary » approach : to place the people respectfully in the center of the subject and to record their voice and story to keep a trace.
To meet the other and to question oneself
Directing and filming a docu-portrait of trumpeter Wynton Marsalis in 1992 (Playing Through The Changes – 32′ for Sony Music) confirmed my choice and also raised my interest for Native American culture, which I discovered at this time.
In 1998, my first self-produced documentary  Red Apple Inside Out follows the life of a Native American family on the Powwow circuit: the father, Lavan Martineau, is a white man adopted as a young orphan by an old Paiute Indian.  I documented his travels with his daughters as he taught them to preserve and decypher Indian petroglyphs and  protect what is still left of their endangered culture.
Themes of cultural heritage, transmission and identity appear in this project, conducted as a personal quest and which will lead me towards other projects of a similar nature.
To transmit and to preserve
Always preoccupied with protecting fragments of heritage and identity, I am searching for artistic endeavours as expressions of identity.
From 2001 to 2013, I film and direct about a hundred short portraits of artists and artisans in France, Europe and America for foreign télévisions, with an attempt to capture the essence of people and situations with just the right balance of emotions.
In 2013, my documentary Indians Like Us, selected in several international ethnological festivals, took me towards a more generous way to share my views of the world.
In 2015, I create the association Plumes et Regards, with the purpose of inviting and helping young Autochtone film-makers to make their films, while supporting their causes, particularly environmental ones.
Today, settled in France, I develop documentaries in Europe and the USA – some in collaboration with Native American authors and directors – and more recently in Vietnam.