The Human Encounter is my most beautiful Journey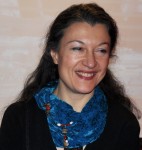 My atypical family history traced my way: diversity and mixed ancestry, human encounter and exchanges, culture and its power of resistance, the relationship to nature. These are the themes that run through all my work.
I grew up near the wild forests of the Ardennes, in northeast France, close to nature and influenced by my dual background : European and Asian.
Guided by my taste for science and my love for nature, I completed studies in pharmacy. Following my passion for the visual arts, I went to study Cinema and Computer Graphics in California.
In the United States for 10 years, I directed and filmed music videos and commercials.
In 1992, the directing of a documentary portrait of trumpeter Wynton Marsalis (Playing Through The Changes) marked a turning point in my career: now I want to film reality, and in particular the indigenous cultures, encountered on this shoot.
In 1998, a first documentary Red Apple Inside Out follows the life of a Native American family on the road to Powwows: Lavan Martineau, a white man adopted in his childhood by a Païute tribe, travels with his daughters, teaching them to decipher Indian petroglyphs and protect a disappearing culture.
The themes of heritage, transmission and identity are revealed in this project. Conducted as a personal quest, it will lead me to other projects of the same nature. I'm developing a trilogy with three generations of that same païute family.
Always concerned with safeguarding fragments of heritage, I pursue a research on artistic approaches as expressions of identity. Back in France, I film and make a hundred short portraits of French, European and American artists and artisans, mainly for foreign television.
In 2013, my documentary Indians Like Us, selected in several international ethnological festivals, leads me to discover other Aboriginal circles.
In 2015, I create the association Plumes et Regards, whose purpose is to welcome young Native American artists and directors in my region of the Ardennes, by supporting their causes, specifically environmental. Awareness-raising for the protection of nature, and especially of rivers, is at the heart of our actions.
My current projects concern the preservation of rivers, the consequences of Agent Orange in Vietnam, and the safeguarding of global craftsmanship.
Always open to partnerships, I also like to film for other filmmakers and their stories.
Please feel free to contact me :
Sylvie Vãng Jacquemin

mail: sylviej@mac.com
cell: 00 33 (0) 6 62 78 06 23
FRANCE